A fluffy, mostly white St. Bernard named Mochi has licked and drooled her way into the Guinness Book of World Records for having the longest tongue of any living dog.
It's 7.31 inches.
Mochi will be featured in the 2018 record book and in a new Guinness book, Amazing Animals.
Her owner, Carla Rickert, says the recognition is a huge honor: "It's going to make all of the water and slobber we've cleaned up over the last six and a half years well worth it."
She and her husband Craig adopted Mochi from a Colorado rescue organization called Big Dogs Huge Paws that rescues and rehomes dogs over 100 pounds.
The couple and Mochi live in Sioux Falls, South Dakota.
Mochi loves peanut butter, which was used to show just how far that licker can extend when a crew from Guinness filmed the video above last year.
Mochi doesn't have the longest dog tongue ever recorded. That honor belongs to a boxer named Brandy who lived in Michigan and had a 17-inch tongue. That's nearly as long as a giraffe's. Brandy died in 2002.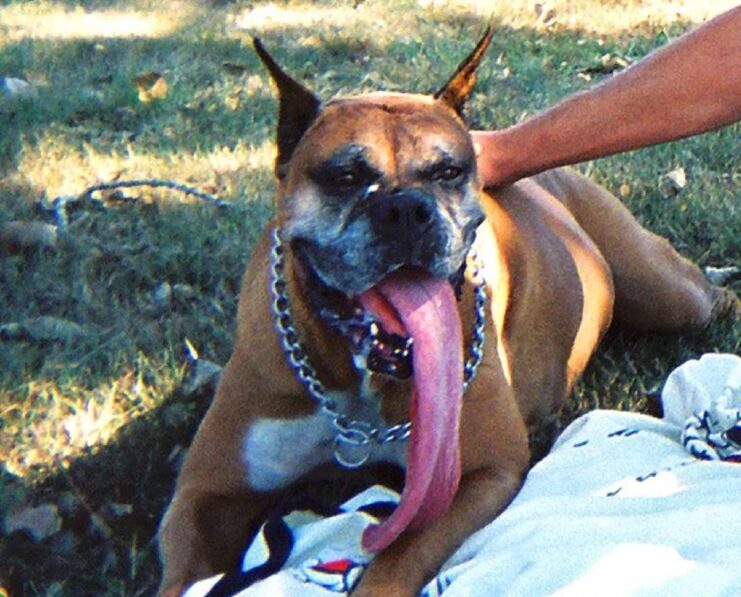 The longest tongue of any mammal, in relation to its body size, is said to belong to the tube-lipped nectar bat. Its tongue is is 3.3 inches — 1.5 times longer than its body — and is so big it must be kept inside the animal's rib cage when not in use.
The longest human tongue — no surprise here — belongs to a stand-up comic.
According to Guinness, Nick Stoeberl, of Monterey, Calif., has a 3.97-inch tongue — unimpressive by dog standards.
Guinness determines tongue length in dogs by measuring the distance from the tip of the tongue to the snout; a human tongue, meanwhile, is measured from the tip of the tongue to the middle of the top lip.
Stoeberl took the title in 2015, ending a 13-year reign by Stephen Taylor, a 50-year-old British man whose 3.86-inch tongue could, when extended, hold five donuts.
Stoeberl said long tongues — and showing them off — run in his family. His father used to do Gene Simmons imitations, and he and his brother frequently stuck their tongues out at each other. Stoeberl also uses his to paint, earning him the nickname, Lickasso:
For more interesting posts like this one, check out ohmidog.com.