There are plenty of nits one could pick about this "Dogs of the World" map, but it's still a pretty awesome achievement.
The artwork is an offshoot of the "Dogs of the World" series of drawings Lili Chin, a Los Angeles-based artist, produced in 2014.
It features 345 dog breeds and their countries of origin.
Since some countries are home of many more breeds than others, the map is a stylized one. France, England and Germany, for instance, are drawn far larger than scale so that the many dogs who originated in those countries could fit in.
The U.S., while pretty much to scale, includes some dogs that one would think surely originated elsewhere, like the Australian shepherds, pictured as originating in California. The Chinese Crested appears to have originated somewhere around Houston. Chesapeake Bay retrievers are shown way over in Michigan, far from the Chesapeake Bay.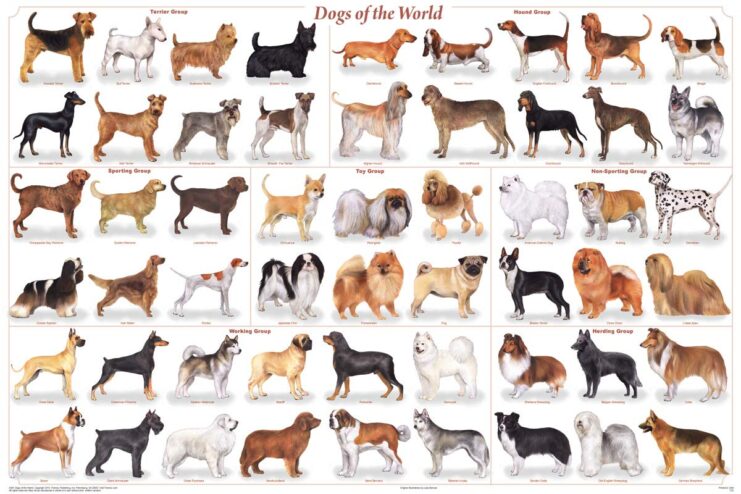 "Space limitations made it impossible to dial in all breed's exact locations, Chin says on her website.
"My goal was to include non-pedigree dogs, lesser-known breeds, mixed breeds, and pariahs/landraces while sticking with the original theme of geographical origins," the Malaysia-born artist said. "After kicking this idea around for a couple of years, I was contacted by an American jigsaw puzzle company that wished to license a 'dogs on a map' graphic for a new jigsaw puzzle."
Chin, who specializes in dog illustrations, infographics, custom portraits, and gifts for animal lovers, is selling the prints on her Etsy site. Prints on paper go for $55. Prints on canvas are $105.