An Ohio man has been charged with fatally shooting two dogs he said were interfering with his deer hunting.
Michael Chedester, a forestry supervisor for American Electric Power in St. Clairsville, has been charged with two felonies under "Goddard's Law," which makes intentionally harming a companion animal a felony. It went into effect in Ohio in September.
Chedester, 58, was fired by the electric company, which said that even though he was off duty he had violated the company's standards of conduct.
The owner of the two dogs said Chedester, an acquaintance, admitted to him that he shot the dogs and offered to buy him new ones.
Pete Byers described the confrontation and posted photos of the deceased animals — a Weimaraner and a Doberman named Bella and Emmy — on Facebook. The post has since been removed.
"Those dogs he killed were my best friends, my buddies, my foot warmers and my companions. I loved those dogs with all my heart," he wrote.
Byers told WTOV that he was getting ready to head to Pittsburgh with his dogs for a work trip when they disappeared Monday.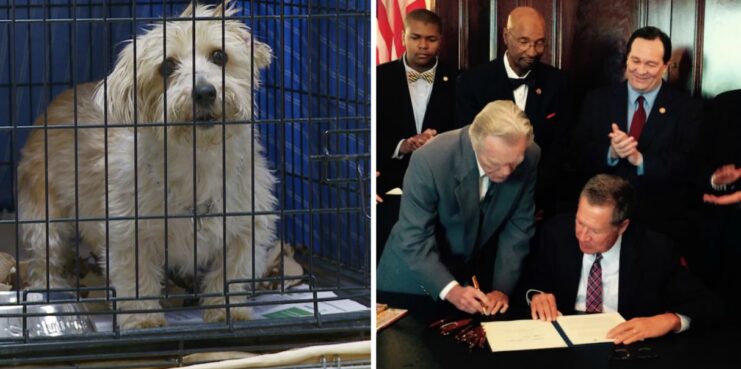 "I turned around to lock that gate … my dogs were gone. And it's the opening day of the gun season so I'm like dying inside. I'm scared to death."
A search was launched, and friends and neighbors spent hours looking for the dogs. Hunters told the search group that they'd heard shots and a dog yelping.
The group eventually found Chedester, of St. Clairsville, who had a tree stand in the area.
Byers said Chedester admitted to shooting the dogs and offered to buy him two "new ones."
Some reports say Chedester went on to brag on Facebook about killing the dogs and keeping their collars as trophies, but it has not been established that those posts were legitimate.
Numerous petitions have been created online to urge prosecutors to seek the maximum penalty against Chedester — a year for each of the two charges.
Chedester made a statement to authorities indicating he was frustrated that the two dogs were interrupting his hunt.
"These dogs, according to his statement, had chased deer past his stand or near his stand at least three times Monday morning," Belmont County prosecutor Prosecutor Dan Fry said. "And on the third occasion, the dogs came to a stop. He shot the one dog. I believe the bullet that he used actually hit the first dog and went into the second dog. Then, based on my report, he shot the one dog on the ground — the second one who had received the bullet as a ricochet."