All humane societies and SPCAs see education as a large part of their mission, but few if any have taken that to the heights of PetSpace, a newly opened center in Los Angeles that is finding new homes for dogs and increasing our understanding of them at the same time.
Over a dozen dogs and cats were adopted during Saturday's opening of PetSpace, the brainchild of Wallis Annenberg, the CEO and president of the Annenberg Foundation.
But, as the Los Angles Times reported over the weekend, PetSpace is about much more than rehoming dogs.
It's part interactive science center, part children's playground, part pet paradise, part research institute and part adoption center.
On top of facilitating adoptions, PetSpace will offer educational programming for the general public on how to care for pets, all while conducting its own scientific research focused on the human-animal bond.
To that end, it has established a Leadership Institute with 16 research fellows — experts in different academic fields — who will write a white paper on the science behind the human-animal bond.
"This whole notion of the human-animal bond goes so much deeper than how you choose a pet," said Eric Strauss, a biology professor at Loyola Marymount University and the research paper's lead author.
"We're bonded emotionally through our pets. But we're also bonded ecologically, medically and economically. I think that's the real genesis of a new science here."
Located in Silicon Beach in Playa Vista, the 30,000-square-foot facility houses more than 80 dogs, cats and rabbits from the Los Angeles County's Department of Animal Care and Control shelters.
It has a staff of 30, assisted by more than 100 volunteers and will be open Wednesdays through Sundays from 10 a.m. to 6 p.m. with free admission.
Its creators see it as a destination in itself, a fun place that will inform and delight adults and children (and maybe make them even happier yet if they end up taking home a dog or cat).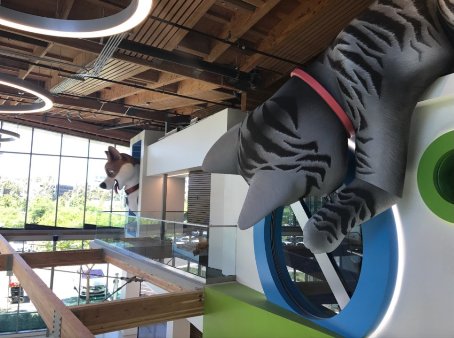 During Saturday's opening, a large mechanical dog barked and wagged his tongue while perched on the second floor. On the ground level, visitors read animal adoption stories displayed on panels and explored an interactive touchscreen wall announcing upcoming events.
The center, in addition to periodic seminars, will have a Sunday reading program where children can sit down with a book and an animal.
Meanwhile, in the various play areas, visitors snuggled with cats and dogs, while others met with dogs in their "suites." Outside each is an interactive digital screen with information about the pets up for adoption.
The center will be making an intense effort to match the right dog to the right owner.
"What's your lifestyle like? What time commitment do you have? We'll have a pretty extensive conversation," said J.J. Rawlinson, the center's animal care manager and veterinarian. "We really take time to get to know the animals."
The adoption fee is $80.
PetSpace has partnered with organizations across the city to develop its programming, which will also include higher education workshops on human-animal relationships.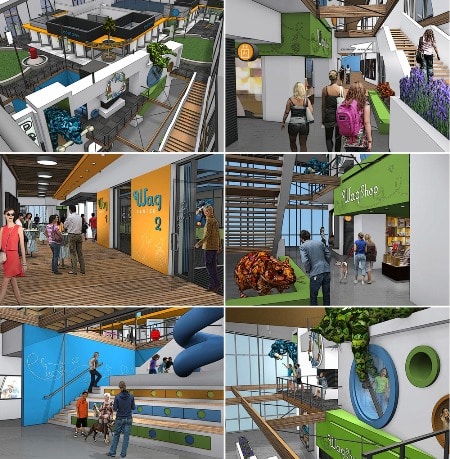 It will also provide medical resources, including aqua therapy, that are generally not available in shelters.
Part of the center's mission will be to educate the public about spaying, neutering, grooming and other aspects of caring for a pet.
Wallis Annenberg is a billionaire philanthropist who has long made pets one of her pet projects.
"In my life, animals have been a profound gift — not just dear companions, but teachers and healers, showing how to live and love fully and in the moment. That's why the opening of Annenberg PetSpace is so thrilling for me," said Annenberg, the Annenberg Foundation's chair and CEO.
The family foundation was founded by Walter H. Annenberg, whose company published, among others, TV Guide, Seventeen magazine and my old alma mater, the Philadelphia Inquirer. It also operated radio and TV stations nationwide. Annenberg died in 2002.
Wallis Annenberg, his daughter, described PetSpace as "a world-class space in which to study the joys and mysteries of life in all its forms. It will be an innovative and interactive place for families to engage with animals and animal lovers of all kinds."
"And it will be a chance for me to pass on the kind of awe and affection and insight animals have provided me for all my years," she told the San Diego News Daily.
The Annenberg team worked with Los Angeles area animal welfare organizations, including Los Angeles Animal Services, the Los Angeles County Department of Animal Care and Control, spcaLA, and the Humane Association of California to design the center.
Read our article on 600 Animals Seized From The Haven in N.C.