Last month, while comparing the records of the two major presidential candidates when it comes to dog friendliness, we questioned whether Donald Trump, as some reports suggested, even had a dog.
We noted that he had reportedly tweeted about his dog undergoing surgery back in February.
While various media outlets would go on to make references to that dog — named Spinee — the tale turned out to have come from a fake Trump Twitter page.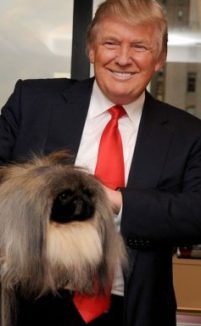 Trump has no dog, according to a post on the Washington Post's Animalia blog.
The Post post speculates his fear of germs might be the reason — and it goes on to say that, as president, he probably should have a dog, for political reasons alone.
"In the digital age, when interest in online animal content dwarfs interest in political news, the absence of a Trump pet amounts to a forfeiture of low-hanging political fruit," the Post post says.
(This kiwi, for one, resents that last remark.)
The Post says every president except James K. Polk and Andrew Johnson has owned a pet (if you count horses) for at least part of his term in office, and that having one can serve to soften a politician's image.
Trump seems to be a man who, though he might soften a stance or two, wants to keep his image hard-edged.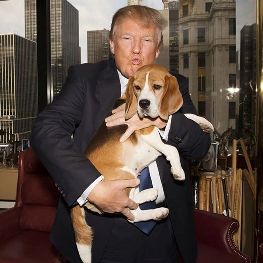 On the other hand, there is his curious habit of being photographed with Westminster winners, an annual big-money, high society event he has long supported.
While there is not a single photo of Trump with a pet of his own on the Internet, he regularly invites the best in show winner to Trump Tower and poses for a photograph, which then makes its way onto social media.
What's Trump's motivation for that? I suspect it's just his way of showing support for the show, as opposed to wanting to hitch a ride on their moment of fame.
Can we expect the next four winners to be invited to the White House — especially if and when those approval ratings (prone to falling once a president takes office) take a substantial dip? I wouldn't be surprised.
Will he give the White House a new first dog? Doubtful. It's probably safe to assume that, while he enjoys hobnobbing with purebreds (how he is with mutts is another question), he is not the kind of person who must have a dog.
Then again, maybe his son Baron will push for one at some point.
Trump, a self-identified "clean hands freak," may be "averse to the microbes that come with a four-legged friend," the Post speculated.
"While it is not known whether Trump enjoys the company of animals, he has been publicly criticized by the Humane Society of the United States for his close relationships with critics of animal welfare activists as well as for his sons' passion for trophy hunting."
It was exactly a year ago that ohmidog! declared Trump an Afghan hound — back when there were 12 Republicans vying for the candidacy, and we assigned a dog breed to each of them, based on looks, personality, and breed stereotypes.
In the years ahead, he could prove himself to be some other breed — maybe one that's not so widely considered aloof, stubborn and slow to learn.
In the meantime we'll just wait and see — among much else — how good a dog might be for him and, much more importantly, how good he is for dogs.
(Photos: From Facebook, at top, Trump with Banana Joe, an affenpinscher who won Westminster's Best in Show in 2013; Trump posing with Malachy, the Pekingese who won best in show in 2012; Trump and Miss P., the beagle who won in 2015; and Trump with Foxcliffe Hickory Wind, the Scottish deerhound who won in 2011)
If you liked this post, don't miss out on our other interesting articles on ohmidog.com.