A man in Lithuania who arranged to have himself filmed throwing a dog over the side of a bridge — and then posted the video online — was forced to turn himself in today after internet groups tracked him down and outed him.
The video, posted on Lithuanian websites, quickly spread across the Internet, prompting Facebook groups and others to call for him to be brought to justice.
You can watch the video here.
The film, which appeared to have been taken from a mobile phone, showed the man carrying the dog to the side of the bridge. He speaks to the camera, making jokes about the videotaping, and how it will prove dogs can fly, while the dog rests calmly in his arms. Then he nonchalantly drops the dog over the side of the bridge.
The dog survived the fall and its whimpers can be heard in the video.
If you want to see the news story on youtube you can watch it here.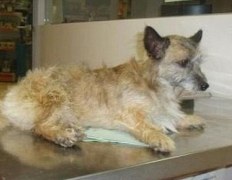 Outraged viewers on Lithuanian websites and international sites such as Reddit.com chased after the man's identity, and police, with help from web users, determined the dog was dropped from a bridge in the Vilkija district in the city of Kaunas, the second largest city in Lithuania.
Police said a website they identified as www.15.min.lt was instrumental in identifying the man as Svajunas Beniuk.
The dog was rescued, received treatment for multiple fractures and internal injuries, and was expected to survive. Beniuk was expected to be charged with animal cruelty, according to MailOnline.
(Note: The dog, named Pepper, later died)
If you want to get a new dog, you should consider adopting. Check out our post on a new pet adoption center in L.A.