Before Lassie, before Rin Tin Tin, even before broadcast television itself, there was Petey — the canine character in the Our Gang/Little Rascals comedies who sported a distinctive dark circle around his right (or was it left?) eye.
Just as plenty of myths have floated up and been deflated around the kid actors who played roles in the series — like Spanky, Alfalfa and Buckwheat — the historical record is so fuzzy when it comes to Petey that trying to separate the facts from the fiction can leave one … well, stymied.
I knew the dog who played Petey was a pit bull (though some dispute that). I assumed the ring around his eye was entirely fake (though some dispute that, too). I'd heard he, in real life, was murdered and that he was buried in a Los Angeles pet cemetery (though not everybody agrees on the specifics of those events, either).
When it comes to the canine star of the Our Gang/ Little Rascals comedies, there's not too much one can say definitively — partly because there was more than one Petey, partly because 80-plus years have passed, and partly because it all happened in Hollywood, a land where truth and myth often spill across their borders and into each other.
But I'm relatively sure this karma-filled episode — in which Petey is put into a gas chamber by a cranky dog warden who goes on to get what he deserved — was, ironically, Petey's last. (Or at least the second Petey's last.)
Entitled "The Pooch, it came out in 1932 — like all the "Our Gang" comedies, in movie theaters. Not until 1955 were they syndicated to appear on television as "The Little Rascals."
The episode stars the second Petey, son of the first Petey, both of whom were owned by trainer Harry Lucenay.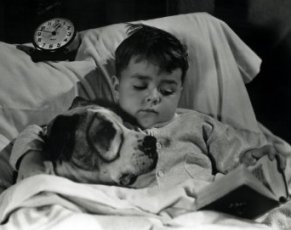 The first dog to play with Petey was Pal, the Wonder Dog.
Pal had appeared earlier in the role of Tige in the Buster Brown comedies.
It was for that role that, with dye, a partial dark circle around his eye was turned into a permanent full circle.
After signing a contract with Hal Roach Studios, Pal reportedly became the second highest-paid actor of the "Our Gang" series.
Pal's last appearance was in the 1930 episode, "A Tough Winter."
Legend has it that Pal, in real life, died after eating meat tainted with poison, or glass. Some reports say the culprit was someone with a grudge against Lucenay.
Then again, legend also has it that Pal was buried with the actor who played Alfalfa, which — given the decades that passed between their deaths — is likely not true at all.
After the death of Pal, who appeared mostly in  the "Our Gang" silent films, Lucenay turned to one of Pal's descendants, a pup with slightly different coloring.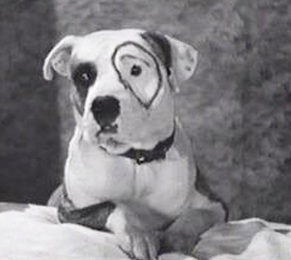 The second Petey, named Lucenay's Pete, was just six months old when he took over the role. He lacked Petey One's distinctive eye circle, so one was supplied by a make-up artist named Max Factor, according to Wikipedia.
Likely unaware that it would lead to confusion, the trainer had the second Petey's circle applied around his left eye, while the first Petey's encircled his right eye.
Eight decades later, the migrating eye circle remains one of the most hotly debated pieces of Little Rascals trivia.
As a rule, if you see a Petey with a circle around his right eye, it's the first Petey; if you see a Petey with the circle around his left eye, it's Petey two.
All that gets further complicated, though, by the fact that many of the images one can find of Petey are the result of reversed negatives, and even more complicated by the fact that, all along, multiple dogs, with slightly different markings, were used in the filming of the series.
Apparently, continuity was not too much of a concern among directors back then.
In any case, the second Petey served from 1930 to 1932, when Lucenay was fired.
There were multiple subsequent dogs — all from different bloodlines — who played the role of Petey between 1932 and 1939, when the final Our Gang episode was released in theaters.
The second Petey retired with Lucenay to Atlantic City and would die at age 18.
Like so much else about them, the second Petey's final resting place, as with the first Petey's, is disputed, according to Roadside America.
While Petey was a pit bull, an American bulldog was used in the 1994 "Little Rascals" movie.