When a German shepherd mix named Rex arrived at Puriton Horse and Animal Rescue in the UK, he wanted nothing to do with anyone. He'd been found tethered in a junkyard eight years ago, and had been kicked out of at least one shelter since then after biting a staff member.
Geraldine the goose wasn't exactly the picture of warmth, either, when she arrived at the same shelter three months ago, surrendered by owners who could no longer cope with her.
Individually, in their lives up to that point, the dog and the goose were given labels like vicious, mean and nasty. Neither seemed particularly thrilled with humans, members of their own species, or those belonging to others.
But when the two cranky creatures were given a chance to hang out together, something magical happened.
The snarly 11-year-old dog and the domineering goose are now best of friends. Staff at the sanctuary believe they've brought out the softer side in each other, The Daily Express reports.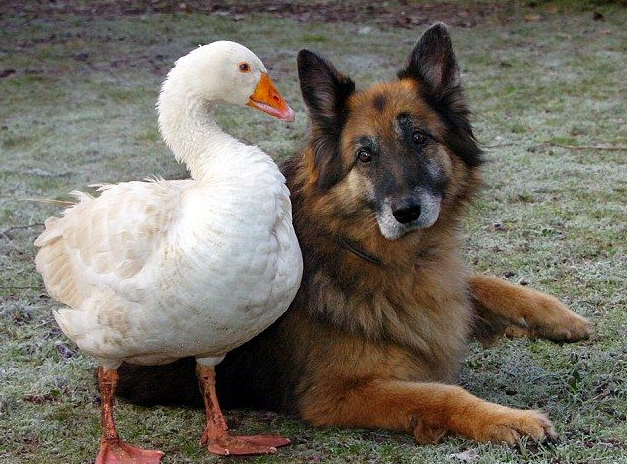 "Normally any bird that crossed his path would have been eaten by now. He's that kind of dog …" said Sheila Brislin, who runs the sanctuary near Bridgwater, Somerset.
Brislin said there was some chasing and squawking when they were first introduced, but Geraldine "stood up for herself and that was that. They just fell for each other."
"I've been doing rescue work since 1997 and seen all kinds of strange animal behavior, but I've never seen anything like this," she added.
Brislin said Rex was rescued from his previous shelter, where he was going to be put down after a biting incident. The dog seemed to immediately mellow once he was introduced to Geraldine.
Now they take walks together and sleep together in Rex's bed every night.
"It's so comical to see them because they love each other to bits," Brislin said. "She just runs around alongside him all day long and whenever we take him for a walk in the woods she has to come too … They are very affectionate and he's always licking her head and kissing her."