If some of the bulging biceps, shaved heads and never-ending tattoos you see on Animal Planet's new series, "The Guardians," look familiar, that may be because they are.
The Guardians, when it comes to both personnel and concept, is a reincarnation of Rescue Ink, the National Geographic Channel program that featured burly and biker-esque "heroes" rescuing dogs in need.
Rescue Ink, the rescue group on which the old reality show was based, underwent a splintering about six years back. Its website remains in existence, but, on TV, it exists only in reruns.
Guardians of Rescue, put together by former Rescue Ink co-founder Robert Misseri, formed not long after that, and now it's the focus of a six-episode Animal Planet series. It premiered last month and airs on Saturdays at 10 p.m.
As was the case with Rescue Ink, its members seek out the most heart-wrenching of animal abuse and neglect cases and do whatever it takes to correct the situation, making sure the cameras don't miss a second of it.
As with Rescue Ink, some of the tales they tell seem to get a little embellishment — in the name of dramatic license, or, to take a cynical view, evoke more financial support from viewers.
In the video above, for example, the Guardians of Rescue say the Long Island dog they are so dramatically freeing of its chains, is being freed for the first time in 15 years.
Once released, he doesn't behave too much like a dog that spent 15 years on a chain; instead, he trots up and happily greets those who are watching.
Still, this being reality TV, we have to take their word for it.
"The poor dog had spent his whole life attached to a heavy chain," Misseri told the New York Post.
The dog, a Lab-chow mix named Bear, is now at Save-A-Pet Animal Rescue in Port Jefferson Station, waiting to be adopted.
According to a New York Post feature earlier this month on the group — one that strangely makes no reference to its roots in Rescue Ink — the Guardians of Rescue is a slightly more diverse collection of animal lovers.
"The Long Island-based group counts ex-military personnel, retired police detectives, carpenters, electricians and even former convicts among their unpaid volunteer ranks," the Post reported.
Rescue Ink's members spawned a TV show, a book, and some criminal charges.
Member John Orlandini, who ran the Long Island shelter they took over, was charged with grand larceny and accused of personally profiting from public donations. In 2014, though, a grand jury decided there wasn't enough evidence to go to trial.
Rescue Ink's popular TV show brought them large numbers of fans and followers, but there were a few doubters as well.
Some of those questioned whether the group was more focused on achieving fame and fortune than rescuing dogs.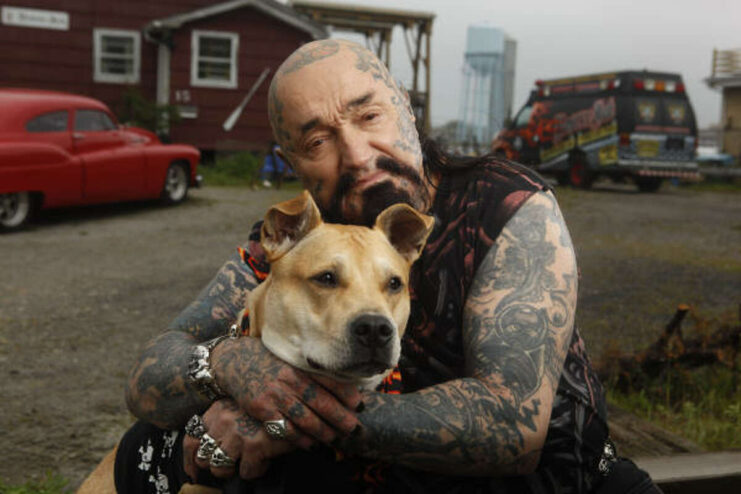 A lot of those concerns show up on this Facebook page, created to inform the public that the group — even though people are continuing to donate to it — is no longer in existence.
The group fractured in 2010, with about half of its members leaving, including Misseri.
"(Rescue Ink) was an organization I started," Misseri told a blogger for Newsday. "I was against doing a TV show at the time, but there was another guy who was the face of the show and it got to his head. I refused to go on and subsequently National Geographic shut it down…"
Clearly, he had no objections to a TV show this time around.
Animal Planet is billing the show this way:
"Though they may be an eclectic team – ex-military personnel, retired police detectives, former FBI investigators, carpenters, electricians and even former convicts and gang members – they unite in their passion and dedication for animal advocacy.
With this group, first impressions are not always what they seem. When an animal is in need, their tough facade washes away and clients see their true love and compassion come forth."
Let's hope, this time around, the pack of tough guys with hearts of gold stay out of trouble, keep the hype and exaggeration to a minimum, cool it on the self-promotion and portray what they do with some honesty.